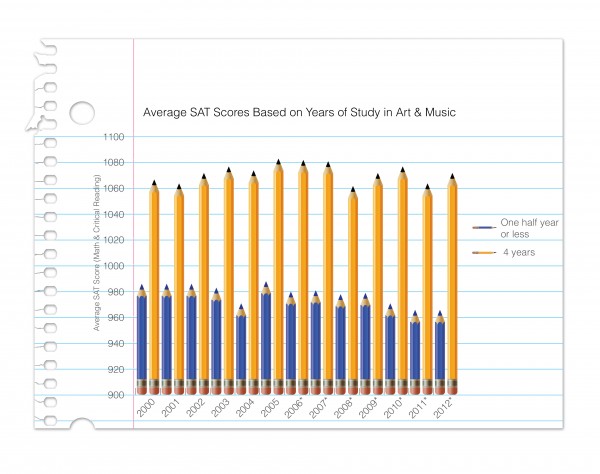 Data from The College Board show that students who take four years of arts and music classes while in high school on average score about 100 points better on their SATs than students who took only one-half year or less (scores of 1065 vs. 966, respectively). Additionally those who had more than four years of arts and music study scored 105 points above those who had only half year or less of arts instruction.
The College Board's report, Arts at the Core: Recommendation for advancing the state or arts education in the 21st century by the National Task Force on the Arts Education recommends education stakeholders consider arts high school requirements for high school core curricula, graduation requirements, and college and university admission requirements in the arts (including arts courses in GPA calculations), working with regional accrediting agencies.
*Reflect the Critical Reading and Mathematics portions of the SAT only. The new Writing section of the test is excluded from this analysis for year-to-year comparison purposes. Students with four years of art and music classes averaged 523 on the Writing portion of the test – 61 points higher than students with one-half year or less of arts/music classes (462).
Source: The College Board, 2012
2012 College-Bound Seniors Total Group Profile Report